Semuliki National Park is a Ugandan park which is located in Western Uganda. The park lies on the floor of the Albertine rift valley. The park was one of the oldest reserves in Uganda. It gained the reserve status in 1932 and was named "Semuliki Forest reserve" however it was upgraded to a national park status 70 years later in 1993. The park is accessible by road from Kampala, the capital city of Uganda using two routes.  The Kampala –Fort Portal via Mubende which is about 290km and  Kampala-Fort Portal via Mbarara and Kasese which is about 465km. Although the latter is the longest route, it offers rare en-route game drive experiences.  Chartered flights are also possible from Entebbe international airport to an airstrip in Toro Semuliki.
There are diverse activities in Semuliki National Park:
Hot springs- these are the center of attraction once you visit Semuliki national park. You can't say that you visited the park without the opportunity to spot the awe-aspiring hot dancing water. The spring is a pair of female and male which are located right at the park entrance office of Sempaya. The female spring is called Nyasimbi and is a boiling geyser that splash out water to a height of 2 meters. Visitors are seen boiling eggs. The male spring known as Bintente is an hour's walk along the forests trails.
Birding is another top activity. There are over 435 species of birds in Semuliki national park and over 35 of these species are found nowhere in East Africa. Common species in the park include Albertine Rift Endemics like the purple-breasted sunbirds and dwarf honey guide, hornbill, Nkulengu rail, Congo serpent eagle and others.
It is possible to do a game drive, there are about 3 game drive tracks in the park and they offer the opportunity of spot the various wildlife in the park, common wildlife include savannah elephants, lion, leopard, bushbabes and others.
Boat cruises normally launched from Ntoroko onto Lake Albert offer game viewing opportunities. If you are lucky enough, you shall be able to hippopotamus, shoebill, and others. This is a park which shall leave you wanting more, a visit to Semuliki national park is always encouraged.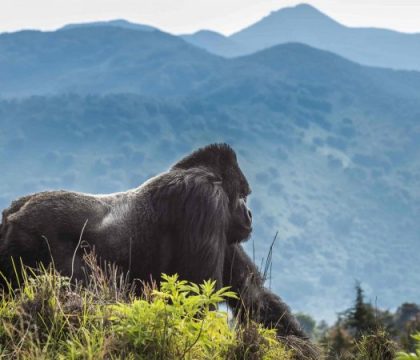 Rwanda is one of the nations on earth where it is possible to trek the gorillas. Mountain gorillas are only…