Queen Elizabeth national park is the most visited national park in Uganda. It is one of the oldest national parks in Uganda. The park lies in southwest Uganda. The park was granted a national park status in 1952. Initially, it was called Kazinga national park but it was later changed to Queen Elizabeth national park after Queen Elizabeth 11 visited Uganda in 1954. The park is accessible by road and air. It takes about 7 hours to travel from Kampala, the capital city of Uganda to Queen Elizabeth national park via the Mbarara Road. For the luxury travellers, charter flights can be arranged from Entebbe international airport to airstrips in Kasese, Mweya, and Ishasha.
There are lots of activities that have kept Queen Elizabeth as the most visited national park in Uganda:
Boat cruise
The park offers magical boat cruises. The boat cruise along kazinga channel in Queen Elizabeth offers the best relaxing way of viewing game, animals that reside in water and on land. The scenic beauty of the surrounding areas as you cruise through shall make you appreciate nature, it's truly awe-inspiring.
Game drive
The park is fully packed with a lot of wildlife; there is a lot wildlife that call Queen Elizabeth national park home: lions, leopards, Elephant, Nile crocodile, hippopotamus, Ugandan kob, Buffalo and others. There are spectacular and unique experiences during the game drive that marvels every tourist and one of the most notable is tree-climbing lions, these lions are seen climbing trees around the Ishasha section of the park.
Forest walks.
There are reserved walking tracks for those who are interested in walking. It is possible to do the walking in Kyambura gorge and Maramagambo Forest. As you walk, you are able to sight several primates.
Birding is also possible. The park has over 500 species of birds. Notable birds include shoebill, pel's fishing-owl, palm-nut vulture, swamp flycatcher and others.  Come and have a great experience by visiting Queen Elizabeth national park.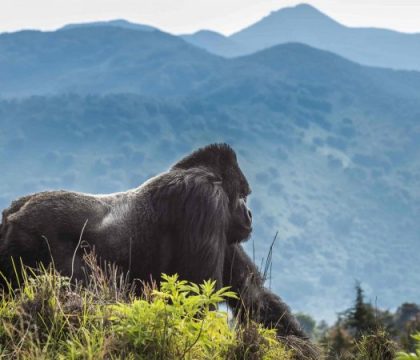 Rwanda is one of the nations on earth where it is possible to trek the gorillas. Mountain gorillas are only…