Zziwa Rhino Sanctuary
Thanks to the efforts of Zziwa Rhino Sanctuary, white rhinos which were close to extinction now have hope of Existence in Uganda. Zziwa Rhino Sanctuary was set up to provide a home for most of the white rhinos which were poached day and night. By 1983, these animals were close to extinction and the government had to come up with protective measures to ensure that they protected this important wildlife and this is when the sanctuary was founded. The sanctuary is a 3 hours' drive from Kampala, the capital city of Uganda. It is a common stopover for those who are going to Murchison national park and Budongo forest. There are 12 rhinos in the sanctuary and the government plans to reintroduce them to the national parks.
When you visit the sanctuary, you shall the opportunity to get up close to the Rhinos. The Rhinos in the sanctuary do not possess any danger and you shall be accompanied by the sanctuary ranger. The rangers are knowledgeable enough about rhinos and they can always advise and offer the best knowledge and insights; be ready to ask them anything in relation to the rhinos. You don't need a game drive or a boat cruise to enjoy this activity, all is experienced by foot. You basically move on foot with the sanctuary ranger as they show you the rhinos.
Although Rhino spotting garners much of the interest in the sanctuary, there are other activities that are possible. The sanctuary has got over 300 species of birds which offers insightful bird watching opportunities. During bird watching, you shall be in position to spot different birds if luck is on your side. Common birds include the shoebill, the giant kingfisher, the white crested crane and others.
The nature walk through the wilderness of the sanctuary offers great opportunities to enjoy some wildlife as well. During your walk, you are likely to encounter the bushbuck, duiker, oribi, mongoose, vervet monkeys, hartebeest, squirrels, and others.
At the end of the tour, you shall not only have had a great experience but also contributed to the Rhino fund. The gate fees collected is used to support the Rhinos at Zziwa Rhino Sanctuary.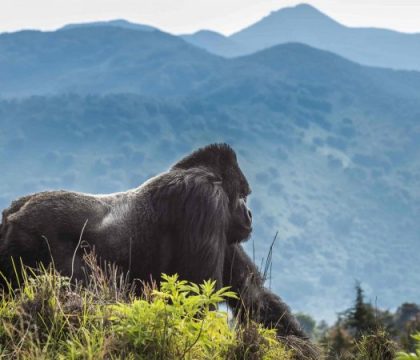 Rwanda is one of the nations on earth where it is possible to trek the gorillas. Mountain gorillas are only…