Murchison national park is one of the most famous national parks in Uganda. Its fame can be witnessed by the number of times it is included in most of the itineraries designed in Uganda. The park lies in the northwest Uganda. The park is one of the oldest national parks in Uganda. It gained a national park status in 1952 before Uganda's independence. The park is known for Murchison falls, a point where water from the River Nile surges through a narrow gorge of about 6m wide. The park is accessible by both air and road. By road, it is about 305km via Kampala-Masindi route. And by air, it is possible to take a chartered flight from Entebbe international airport to Chobe, Pakuba or Bugungu airstrip. Murchison national park has got various activities to choose from and these are not limited to:
Boat cruise
The boat cruise is probably the most entertaining activity in Murchison national park. There are 3 kinds of boat cruise experience that you can choose from: "the Murchison falls boat cruise" promises to take you upriver from Paraa such that you see Murchison falls exploding through cliffs. This is a very exciting adventure because you shall be in position to view different game such as hippos, crocodiles, Elephants and others.  "Top of the falls visit" shall give you the opportunity to visit the top of the fall witness the River Nile as it explodes through the 6meter wide gorge. The last boat cruise experience sails down the river. This is also amazing.
Game viewing
This is another jewel activity in the park. There are two areas which offer the best game viewing experience- Buligi peninsula and the southern part of the Murchison falls national park. During a game drive, you shall surely witness several experiences and with luck, you shall be able to spot Elephants, buffaloes, lions, giraffes, Ugandan kobs, and others.
And for those interested in birding, your expectations shall be met once you visit Murchison falls national park as their over 450 species in the park. Rare species include dwarf kingfisher, great blue turaco, Goliath heron, and others.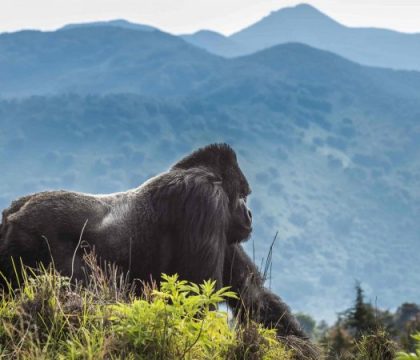 Rwanda is one of the nations on earth where it is possible to trek the gorillas. Mountain gorillas are only…