Kenya is one of the most sought after safari destinations in Africa. Much as it has gained reputation in terms of trade, athletics, and in the political scene around the world; the country boasts a lot of tourism attractions. Kenya is located in East Africa at the coast of the Indian Ocean and it neighbors with Somalia, Ethiopia, South-Sudan, Tanzania, and Uganda. The country's capital and largest city is Nairobi and there are other major urban cities throughout the country such as Mombasa, Eldoret, Nakuru, and Kisumu. The country relatively big with an area size of 581,309km2.Kenya has a population of over 49 million people who are diverse in terms of culture, it is recorded that the country inhabits over 42 tribes with the most popular tribe being the Maasai.   The country's official languages are Swahili and English.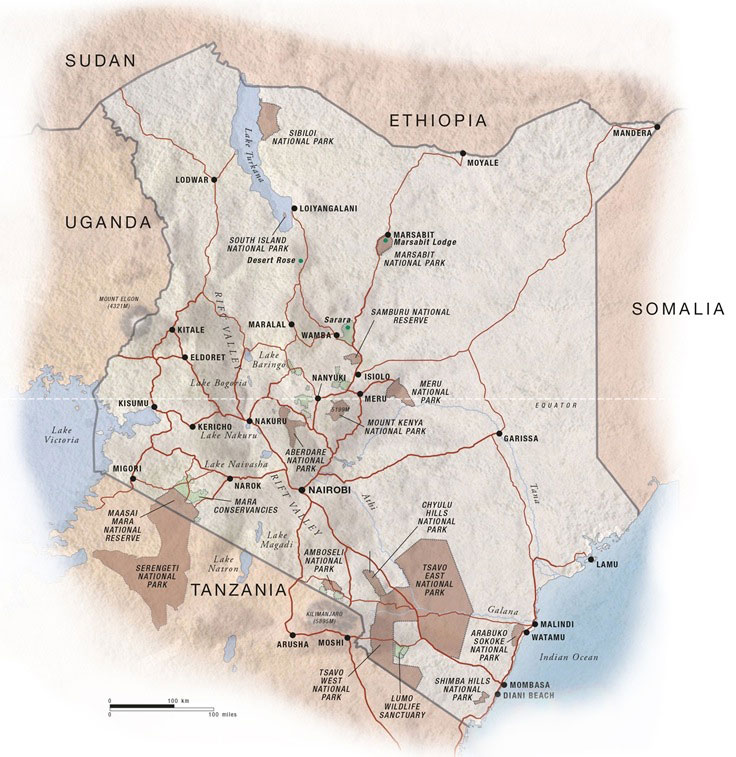 This 1 day Amboseli National park safari in Kenya shall take you to Amboseli national park in Kenya. Visiting Kenya…
Kenya safari, Wildlife safari in Kenya
In terms of Wildlife safari, Kenya should be one of your bucket-list countries to visit. Kenya safari is just amazing!.
The country has over 25 national parks which are populated with various species of wildlife. Kenya is a famous destination to spot the Big 5; Lions, Elephants, Leopards, Rhinoceros, and the Buffaloes. In terms of convenience, Kenya outcompetes any African destination – Kenya is the only nation in the entire world with a National park which is so close to the city; Nairobi National park which the oldest National park in Kenya is just 7 kms away from the Nairobi central business District. It is also possible to drive to several national parks and do 1 day tours. There are so many rare and endangered wildlife species to look out for when in Kenya and these include the Sitatunga Antelopes, Burmese star tortoise, Aardwolf, and others. One of the most successful wild events which attract hundreds of thousands of Tourists to Kenya is the great migration. During the great migration, millions of wildebeest, thousands of Thomson's gazelles, Topis, elands and zebras are seen crossing from Serengeti National park to Masai Mara Game Reserve in search of the green pastures.
With abundance of water bodies within Kenya and at its borders, there are a lot of birds which are attracted to such environments. The country is populated with over 1000 species of birds which can be viewed once you take a trip to most of the country's national parks and game reserves.
Other attractions to visit on your Kenya safari tour
Kenya boosts a number of Marine parks where snorkeling, diving, fishing, boat cruise, picnic and camping is possible. Most of the marine parks contain a rare ecosystem of aquatic animals, sea grass, coral reefs, and several species of fish and birds.
Historically, there are various prehistoric fossils which have discovered in Kenya and most of the fossils are a center of tourism.
Cultural tours especially the Maasai village visits have been successful in the country as tourists visit to witness the way of life of these unique cultures. Kenya is a truly magical destination and visit to the nation shall reveal and fulfill your hidden travel agendas.
Next time you decide to take an African safari tour, don't hesitate to contact our wildlife safari experts on how you can combine some of our best safari destinations on your longer combo safari or a tour that will just enable you to explore the country on your best Kenya safari.
Where to go
The simplest geographical division in Kenya is between the Indian Ocean coast and the highland interior – or 'up-country' as Kenyans often call it. The two are different worlds, separated by south-east Kenya's vast plains of dry bush and scrub. Once you start exploring the country, you'll find it divides into numerous regions, in many of which we can offer safaris. The following short sections provide a quick overview of safari areas in Kenya.
The Maasai Mara
The land of Big Cat Diary and Disney's African Cats and location of one of the natural wonders of the world, the Great Migration, the Maasai Mara is at the top of most people's wish lists on a Kenya safari holiday. The Maasai Mara (also known as Masai Mara, but the double-a spelling is increasingly common as it's the way the word is spelled in the local Maa language) is a gloriously beautiful, wildlife-rich savannah landscape, where traditionally dressed Maasai pastoralists herd their cattle and goats. It's also where herds of minibuses jostle for the best photo opportunity amid a panorama of African wildlife. We're not going to pretend otherwise: 'the Mara' is one of the busiest of Kenya's safari regions. Happily, there are strategies for avoiding the crowds on a Maasai Mara safari – and we have lots of experience in doing just that.
Laikipia
On the other side of the Great Rift Valley, north-west of snow-capped Mount Kenya, the high plains of Laikipia are increasingly recognised as one of the best wildlife regions in Kenya (Ol Pejeta being one Laikipia's most popular areas), challenging the Maasai Mara for overall safari experience, if not for raw numbers of animals. With the occasional exception of Ol Pejeta, which does get busy, you won't need to escape from any crowds here: in an area not far off the size of Wales, there's plenty of room for a few people on safari.
Samburu
Another 100 kilometres further north, where the Ewaso Nyiro – Kenya's biggest northern river, the life-blood of the region – turns east, the hot, dry, much lower country is the traditional territory of the Samburu. The Samburu are Maa-speaking camel-herders who migrated into the region several centuries ago, along with the Maasai. The river banks in Samburu National Reserve are distinguished by the area's characteristic forked doum palms, branching out above thick stands of riverine acacia forest, offering cover to prey and predators alike. A safari in Samburu is always rewarding and the reserve's small size means game drives concentrate on watching animals rather than covering the miles.
Meru National Park
Meru National Park, where George and Joy Adamson released their most famous lioness, Elsa, back into the wild (a story immortalised in the book and film Born Free), is increasingly re-appearing on Kenya safari itineraries. For more than a decade in the late 1980s and 1990s this entrancing wilderness was virtually off limits due to out-of-control poaching. Then, championed by the French Embassy, the park became a KWS cause célèbre and was comprehensively restored, with newly cut earth roads, a dedicated force of rangers and, near the main gate, a poacher-proof rhino sanctuary that is home to both black and white rhinos. More and more visitors are opting to included Meru in their safari holidays.
Northern Kenya
Most of northern Kenya is arid country, scorched and roasting under the equatorial sun, and sometimes going for months or even years without a drop of rain. The landscapes vary from craggy, volcanic cinder fields to impassable areas of sand-dune systems and gritty scrub where jackals scamper and ostriches peck. But the mountains that rise from the deserts are often luxuriantly forested and the region makes for some of Africa's most adventurous safaris. The north is where safaris are as much about culture as about wildlife and you'll have plenty of opportunity to meet members of Kenya's traditional tribes.
Rift Valley
The Great Rift Valley runs north-south through Africa from Jordan to Mozambique. Some of its most dramatic landscapes are found in Kenya, where a string of lakes – Baringo, Bogoria, Nakuru, Elmenteita, Naivasha and Magadi – create pools of colour and vegetation in the dry plains and bush country. While 'big game' is generally less prolific in this region, bird-watching safaris are particularly good here.
Amboseli & the Chyulu Hills
On the broad, flat plains south of Nairobi, Amboseli is Kenya's elephant park par excellence. One of the oldest parks in Kenya, originally part of the colonial era's 'Southern Maasai Reserve', Amboseli became a wildlife sanctuary in the 1940s and was declared a national park in 1974. It is rightly one of Kenya's most popular safari regions and, with its iconic views of the wildlife against a backdrop of majestic Kilimanjo is a highlight of many Kenya holidays.
Tsavo West National Park
Although they share a name – and a common border, coinciding with the Nairobi–Mombasa highway – Tsavo West and Tsavo East are two distinct national parks with different eco-systems: the open, flat-to-undulating plains and scattered bush of Tsavo East and the much more wooded and hilly landscapes, dotted with volcanic cones and dramatic, black lava flows, that characterise Tsavo West. To the south of Tsavo West National Park, the Lumo Community Wildlife Sanctuary is one of Kenya's most successful new community conservation initiatives. Lumo offers a very affordable safari experience, making it great for families.
Tsavo East National Park
Tsavo East is by far the biggest of Kenya's parks. At more than 13,700km2, it's nine times bigger than the Maasai Mara National Reserve: indeed you could fit the whole of the Mara reserve into the southern tip of the park, south of the Voi River. Most famous for its huge herds of dust-red elephants (more than 10,000 of them bulldoze their way around this vast park), Tsavo East has another big draw: while on safari you can set off on a game drive across the seemingly empty wilderness, and return to camp three hours later without having seen a single other vehicle.
The Kenya Coast
Some of the first contacts between East Africa and the wider world were along what is now the Kenyan coast. The monsoon winds dictated the Indian Ocean's annual trading calendar: merchant ships arrived from the Persian Gulf and the Arabian peninsula, but had to wait for the annual change in the wind to return home. So they anchored here, in the creeks and ports, for months at a time. Such a long stay in Kenya might turn anyone's head and, every season, some visitors chose to settle on the coast.
Over the course of the first millennium AD, Swahili society was born – still today a vibrant and complex cultural mix of African roots and imported styles; a classic Bantu language with hundreds of Arabic loan words; and a highly nuanced class structure in which claims of overseas ancestry are as critical to high-status families as they are to the Norman aristocracy in Britain or to American descendants of the Mayflower pilgrims.
Fascinating as its history is, most people visit the Kenya coast after the intense experience of a safari, simply to relax on the beach. Kenya beach holidays are the real deal: endless stretches of fine white sand lapped by an azure, bath-warm sea, looking out to the coral reef at the ocean's edge across a safe expanse of shallow, tidal lagoon. And if you're in the mood for more wildlife action, a safari in the beautiful Shimba Hills National Park is only a short drive from the coast.
Nairobi
Kenya's sprawling, traffic-choked capital is an unavoidable stopover on many itineraries, and most people wouldn't choose to spend longer in Nairobi than necessary. But the city is not nearly as bad as its 'nairobbery' reputation might suggest: there are some great hotels and restaurants, and the shopping opportunities – in malls or outdoor curio markets (so-called 'Maasai markets') – can be very good. More importantly, Nairobi has some creditable must-sees of its own, of which the standout safari attraction is the remarkable Nairobi National Park, where all the 'Big Five', with the exception of elephants, can be seen.