Rwenzori mountains national park is a famous national park in Uganda. The park lies along the Uganda-Congo border in western Uganda.  The center of attraction of the park is Rwenzori Mountains. The Rwenzori consists of six distinct mountains: Stanley, Speke, baker, Emin, Gessi, and savioa. The Rwenzori is commonly known as "the mountains of the moon."  The park is about 375 kilometers from Kampala using the Kasese route and about 450kilometer using the Mbarara route. Air transportation can be arranged from Entebbe international airport or Kajjansi airstrip to Kasese, the district where the park is located. The Rwenzori national park gained its name from the local name which translates to "rain maker or cloud king".
The climate of Rwenzori Mountains is cold and extremely wet. It snows on the peaks. The drier months are always favorable for climbing, this occurs during June to August and December to February.
The most popular activity in Rwenzori mountains national park is Mount Climbing. It is possible to climb until the peak of each of the mountains however the most popular is Margherita, the highest point of Mount Stanley. The ascent to Margherita can take a minimum of 7 days. However this is a challenging experience and prior arrangements are always encouraged.
There is a measurable wildlife in the park. The park has over 18 species of mammals, 217 species of birds and 9 species of reptiles. Spotting most of the wildlife is possible during walking around the park.  The most notable and unique wildlife is the three horned chameleon.
A visit to the local people of Bakonzo is also possible. The bakonzo have lived on the slopes of the Rwenzori for generations. There insightful lessons to pick from such a visit. You are welcome, come and take your climbing challenge at Rwenzori Mountains.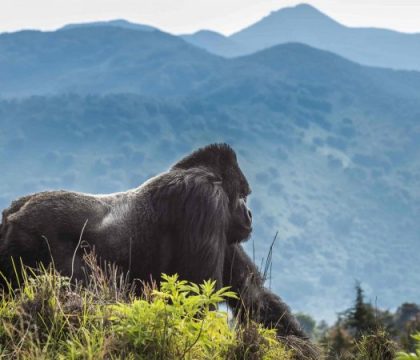 Rwanda is one of the nations on earth where it is possible to trek the gorillas. Mountain gorillas are only…