Lake Mburo national park is the nearest national park from Kampala, the capital and largest city in Uganda. It is also one of the smallest national parks by size. Lake Mburo national park is the only national park in the country where a 1-day tour is possible by road-that is walking up early in morning and driving from Kampala to the park and coming back in the evening after doing all the activities. The park is located in Kiruhura district which is between Masaka and Mbarara districts. The park is about 228km from Kampala.
There are many activities which are popular in Lake Mburo national park just like any other national park in Uganda:
Game drive
If you wake up early morning and you feel like going to the national park for game drive, you just pack up your bags and head to Lake Mburo national park. The park hosts a wide range of wildlife such as African leopard, jackal, impala, hippopotamus, zebra, warthog, common eland, buffalos and others. There are designated tracks for game drive experiences and these depend on your entrance point. For those coming from Kampala, the Nshara gate is preferred while those from Mbarara, it is better to use the sanga gate. It is also possible to do a night game drive where you encounter nocturnal animals.
Boat cruise
A boat cruise is possible within the park and this offers the opportunity of viewing water living creatures such as the hippopotamus and the unimaginable scenic views of the surrounding nature on the mainland. A boat cruise is done on Lake Mburo which is part of the national park-the park was named after the lake.
Birding
Prime birding areas within the park include the acacia woodland. You shall have the possibility of viewing about 332 species of birds such as many swamp specials like papyrus gonelek, papyrus yellow warbler, white-winger warbler, and the shoebill.
Planning for a one-day tour in Uganda is possible by visiting Lake Mburo national park.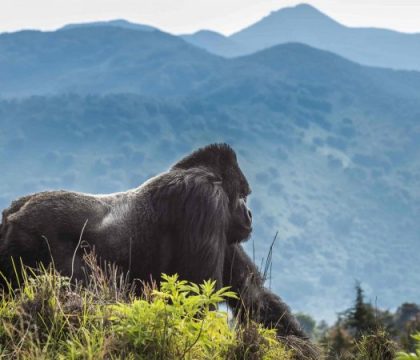 Rwanda is one of the nations on earth where it is possible to trek the gorillas. Mountain gorillas are only…