Bwindi impenetrable National park is one of the common national parks in Uganda that has contributed to the country's tourism industry. The park in situated in the western part of the country near Congo and Rwanda border.  The park is a rainforest which is one of the oldest in Africa; it has lived for more than 2500 years and because of that, it supports a variety of wild and animal life. It takes about 9 hours to travel by road from Kampala, the capital city of Uganda ,to Bwindi Impenetrable national park however for those that want to travel by air, there are options for you- you can fly from Entebbe international airport to Kisoro or Ishasha airstrip.
One of principle activity in the park that draws hundreds of thousands of tourists is gorilla trekking. The park is home to Mountain gorillas, a rare ape species which has close resemblance to humans. These magnificent apes are both rare and endangered. Gorilla trekking involves moving through the jungles of Bwindi impenetrable national park as you look for traces of gorillas until you finally view a gorilla group. And once you spot them, you are only allowed to completely stay with them for a period of one hour.  Prior to trekking, you must have gorilla permit which are purchased at any Uganda wildlife Authority office across the country. You pay $600 during the peak season and $450 during the low season.
The park also supports other primates like the chimpanzees, black and white colobus monkeys and others. For birders, there are lots of birding opportunities as the forest is home to over 300 species of birds.  The park is open through the year and all the mentioned activities are all year round.
Before the park was gazette as national park in 1994, a unique tribe known as the Batwa used to live inside the forest. The Batwa's uniqueness and survival techniques sparked a cultural tour. Although they were relocated to the edges of the park, the Batwa tribe draws a great number of tourists who come to learn about their culture and survival techniques.
A visit to Bwindi impenetrable forest is worth every penny invested. Whether you are coming for gorilla trekking, birding or a cultural tour, Bwindi impenetrable national park shall surely deliver beyond your expectations.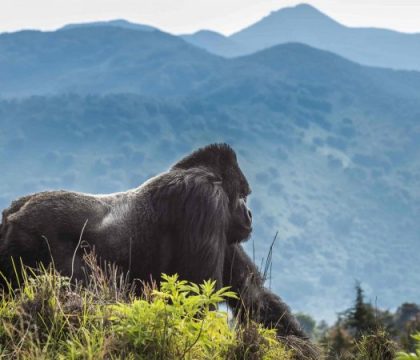 Rwanda is one of the nations on earth where it is possible to trek the gorillas. Mountain gorillas are only…