Kigali city tour
If you want to interact with the locals and get to know both the economic, social and political aspect of the people of a particular country, a city tour is always recommend. In Rwanda, Kigali is the capital and largest city of the country and it makes perfect sense to do a tour around the city. Kigali has gained reputation is one of the most cleanliness, hospitable and organized cities in Africa. The city is hilly in nature. Like any city, Kigali has a lot of tourist attractions to choose:
Nyamirambo tour
Nyamirambo is one of the bustling neighborhood in Kigali. The area is culturally blessed and if you want to mingle with the people of Kigali, taking a Nyamirambo tour is recommended. There are alleys of shops that stretch the southwestern corner of Kigali. While the rest of Kigali seems to be closed by 8pm, this part of the city remains open until late in the night. Everything is affordable within this neighborhood. It you want to pay for accommodation, it is normally cheaper than the rest of Rwanda.  There is no better of tasting local dishes than visiting Nyamirambo. Once you here, you shall have a variety of option and you are directly in sync with some of the popular cuisines in the country.  The biggest mosque in Rwanda is situated in Nyamirambo; you can learn how the people of different faith live in harmony once you visit the Nyamirambo. Whether you want to pick up a simple art craft to take home as a souvenir, Nyamirambo shall surely deliver.
Kigali genocide memorial
The Kigali genocide memorial was established after 10 years when the genocide took shape. The memorial site is located at Gisozi where many victims of the genocide where buried. As you move through Rwanda, you notice there is peace and reconciliation however a visit to the memorial shall make you understand part of Rwanda's history.
Presidential palace visit
The presidential palace tour shall give you the opportunity to visit the palace of the former Rwanda President, J.Habyarimana. It was his death that sparked off the genocide in 1994, his plane was shot down. Today, the state house is now a museum and as you visit, you shall be reminded of several historical aspect of Rwanda. Another museum that is of interest to tour is the Natural history museum, Dr.Richard Kandth a renown German explorer is believed to have founded Kigali partly as a center for German administration in East Africa. His residence was converted into a museum which houses several facts about Rwanda.
Since buying souvenir is part of some tourist's culture, there are many art and craft places around Kigali where you can easily purchase any art and craft piece of your choice. Caplaki craft village, ikaze showroom, Aziz life boutique are among those place to buy your favourite art and craft piece.
Like any city tour, there are lots of tourist attractions for you to enjoy depending on your interest in Kigali.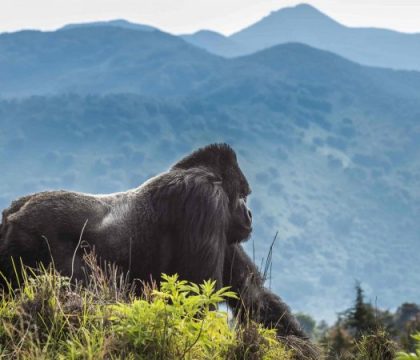 Rwanda is one of the nations on earth where it is possible to trek the gorillas. Mountain gorillas are only…