Nsumbu National Park is one the national parks that lies along the shores of a water body. The park lies along the southern shores of Lake Tanganyika at the northern corner of Zambia. The park is composed of kilometers of the sandy beaches, rocky coves, natural bays, vertical cliffs, a deep valley and rugged hills. One of the most popular rivers within the park is Lufubu River; River Lufubu crosses through the park and pours into Lake Tanganyika. Nkamba and Chisala rivers which are smaller than Lufubu are also part of the Nsumbu National park. These two wonderful water bodies drain Tondwa swamp into Nkamba and sumbu bays. Nsumbu national park is accessible by road via Lusaka, the capital city of Zambia. The park is 1188km from Lusaka. This is surely a challenging journey however for those that don't want to use road transport, air transportation is available. It is possible to take a charter flight from Lusaka to Kasaba or Nkamba bay airport.
Popular tourism activities within the park
Like any other park, wildlife is always the center of attraction. There are various species of wildlife in Nsumbu national park. Buffalos, Zebra, Elephants, roan, eland, sable, bushbuck, hartebeest, spotted hyenas, serval, waterbuck, reedbuck, Puku and warthog are popular. The rare blue duiker and the sitatunga are commonly seen around the swampy areas of the park. Crocodiles and hippos are seen within the lake and therefore swimming is prohibited.
Bird watching
With vast amounts of water bodies, forests, swamps; the park acts as a natural attraction for the birds. Several bird species can be observed within the park. Flamingos is one of the most popular migrant bird however other species such as spoonbill, skimmer, ducks, herons, lesser black-backed gull, white-winged black tern, African skimmer and others.
Fishing
Fishing is a popular activity within the park along the Lake Tanganyika and the lake hosts several species of fish which include the catfish, Nile perch, goliath tigerfish and others.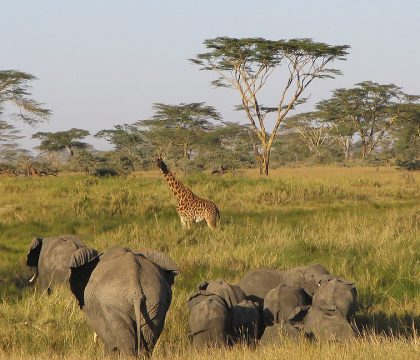 This 10 day Zambia and Tanzania safari is one of the best safaris to experience Zambia and Tanzania. Zambia is…