Mosi Oa Tunya national park is one of the smallest national parks in Zambia however it is at the same time one of the most famous national parks in Zambia. The park is situated in the southern province of Zambia and its name  Mosi Oa Tunya is in the local dialect of kololo and it translates to " the smoke that thunders" .Mosi Oa Tunya National Park stretches about 12km above the Zambezi river from the falls. The park is home to the Victoria Falls, one of the most popular tourist attractions in Zambia. With plans to extend it further, there is no limit to what this wonderful park has to offer.  Most tourists refer to the park as one of the most suitable sanctuary for herbivores-there entirely no predators within the park which makes it a worry-free park for herbivores.
There are lots of attractions to encounter in Mosi Oa Tunya national park
The victoria falls.
It is no doubt that some of the great tourism numbers that Zambia is seeing in the recent years is as a result of the victoria falls, these falls are known throughout the entire world and several tourist visit to see and swim within this water. The park was renamed Mosi Oa Tunya as a result of the Victoria Falls which the park occupies.
Game drive
There are measurable numbers of wildlife species within the park and the good news for the herbivores is that there are no predators within the park; this enables the inhabitants to grow in numbers without any intervention. Elephants, Antelopes, zebra, giraffes, and warthog are common seen within the park. Mosi Oa Tunya national park lives to its name and visit to the park while in Zambia is highly encouraged.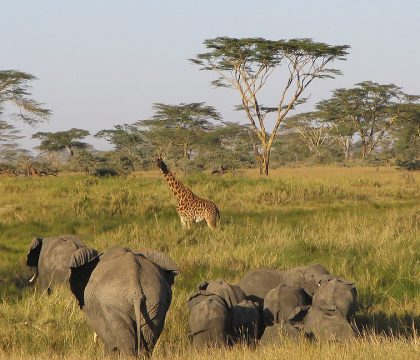 This 10 day Zambia and Tanzania safari is one of the best safaris to experience Zambia and Tanzania. Zambia is…