Liuwa plain national park is one of the oldest national parks in Zambia with a rich history. Before attaining the park status in 1972, the park used to serve as a hunting ground for Lubosi Lewanika-the king of the Lozi people. He is the one who designated it as a protected area in early 1880s. The park lies in the western province with a total area of 3600 km2. With recent developments, the park is now accessible via kalabo which is the nearest town before entering Liuwa plain national park. Mongo is the capital of the western province and the best place to refresh before driving to Liuwa plain national park. There are so many supermarkets, petrol stations, ATMs within the city.
During the visit to the park, there are many activities to look out for:
The park grassland and its entire ecosystem support a great number of mammals and other wildlife species. Some of the common species include blue wildebeest, spotted hyena, cheetah, lion, buffalo, common elands, reedbuck, red lechwe ,zebras, sitatunga, roan antelopes, Oribi, common tsessebe. The Liuwa's wildebeest migration is the second largest in Africa.
Bird watching
This is definitely one of the best birding destinations in Zambia. A trip to Liuwa plain national park shall reveal so many bird species and some of these include bustards, grey crowned cranes, the endangered wattled crane, three-banded plover, black-winged Pratincole, long-tailed widowbird, secretary bird, swamp boubou, white-cheeked bee-eater, sharp-tailed starling, marabou, yellow-billed stork, egrets, martial eagle, palm-nut vulture, African fish eagles, grey heron, pygmy geese, and others.
The park is now accessible throughout the year and the number of tourists visiting the park keeps on increasing.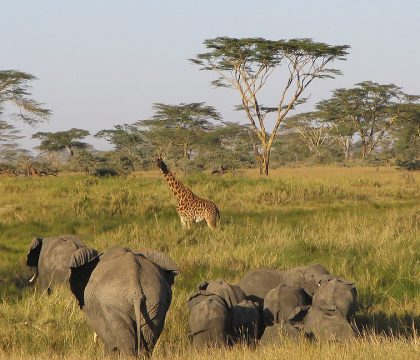 This 10 day Zambia and Tanzania safari is one of the best safaris to experience Zambia and Tanzania. Zambia is…