Kasanka National Park was the first park in Zambia to be managed under the private-public partnership. The park is managed by the Kasanka trust and the departments of national parks and wildlife in Zambia. The park is situated in Serenje District in the central province of Zambia. The park is one of the most unique and must-see visit destinations in Zambia. Many people know the great wildebeest migration as the greatest wild migration in the world however the fruit bat migration in Kasanka national park outweighs the great migration in millions. Over 10m fruit bats are seen crossing to the Mushitu Swamp evergreen forest in the park; this migration occurs during October and November.
In addition, there are several other attractions within the park:
Wildlife in Kasanka National Park
There are many species of mammals that reside within the park. The park is populated with different species of wildlife like reedbuck, sable, buffalo, antelopes, hartebeest, Zebra, defassa waterbuck, lions, hyenas, white-tailed mongoose, honey badgers ,African civet, Side-stripped jackal, Otter ,Dwarf mongoose, caracals, Yellow backed duikers, warthogs, moloney's monkey, rare blue monkey ,Sitatunga and others.  Forest cobras, Large Nile monitors, African rock python, olive marsh snake, geckos, agama, skinks and other reptiles reside in the park. The park is endowed with various rivers, lakes, and various water systems which offer a great life to the habitants. Water is always assured during any period of the year.
Birding in Kasanka National Park
Birding is popular in this national park because of the various water systems. There are many species of birds that call Kasanka national park their home. With over 400 species of birds, going for a birding adventure within Kasanka National park is worth the investment. Birds to look out for include red-throated Twinspot, red-backed mannikin, green-headed sunbird, pallid honeyguide, black throated wattle-eye, grey-olive, cabanis's Greenbul, black-backed barbet, grey waxbill, Miombo rock thrust, racket-tailed roller, spotted creepers, red-capped crombec, Miombo rock thrust, and others.
It is possible to visit the park all year round however to have the possibility of enjoying the greatest fruit bat movement, it is better to visit during October and November.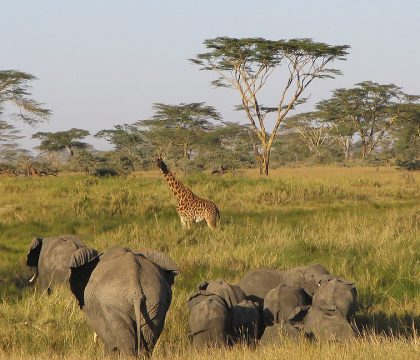 This 10 day Zambia and Tanzania safari is one of the best safaris to experience Zambia and Tanzania. Zambia is…