South Luangwa national park is situated along Luangwa River which was the first national park in Africa to innovate a walking safari. The park is situated 584km from Lusaka, the capital city of Zambia. It is possible to travel from Lusaka to South Luangwa national park by road however it is always advised to hire a 4×4 car because of the road systems. By air, it is possible to fly to the park using chartered and scheduled flights. River Luangwa is considered as the most untouched river in Africa and because of that, it supports a vast ecosystem of plants, wildlife, and birds. Zambia experiences the winters and summers and because of the climate changes, the park witnesses several changes during those periods. There are so many tourist attractions to witness once in south Luangwa national park:
Wildlife
Although the Rhinos are extinct in the park due to the wide range of poaching that roamed in Zambia years back, there are numerous species to encounter once you visit South Luangwa national park: zebras which are always seen in herds, antelopes-the park hosts over 14 species of antelopes; hippos-hippos can be seen in counts of 30-70 with in the river system.
The kudus, hartebeest, klipspringer, Oribi, roan, reedbuck, and others are common in the park.
Bird watching
With this untouchable water system, there are so many bird species which roam around the park. Most of the birds are seen along the river banks with loud chanting. Most of the bird species are endemic to the park while others are migratory which migrate from as far as Europe. Some of the common migratory species include the hobbies, white storks, red chested cuckoo, and swifts. Endemic species include crowned cranes, black headed herons, marabou stork, goliath heron, white egrets, saddle bill stork.
The best time to visit.
It is always better to visit during the dry season during July- October.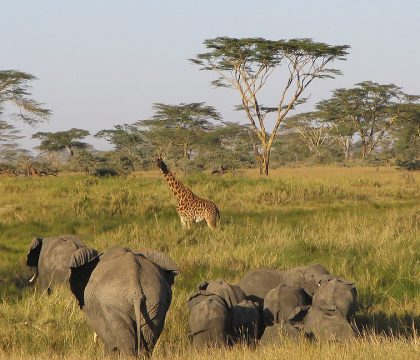 This 10 day Zambia and Tanzania safari is one of the best safaris to experience Zambia and Tanzania. Zambia is…