The Selous Game Reserve (pronounced as "seloo") was named after the late English game hunter and conservationist; Sir Frederick Courtney Selous who died in the Beho beho within the Selous Ecosystem while fighting the Germans during the Second World War. Selous was a hunter, an explorer and an author.
The Selous Game Reserve is located some 250 Kilometers away from the Economic Capital of Dar es Salaam, and one can get there by road ( partly rough road), and that makes the place rather un accessible during the rainy season. Road works are however underway and soon Selous can be toured all year round without any problem. Selous is dry usually during the months of January to March but hotter during these months. April and May can be very rainy in Selous. July to September is usually the best dry season to visit the Selous Game Reserve for safari purposes while October to December experiences some short rains but they never make safaris and game driving impossible.
Selous Game Reserve in Tanzania is the largest game reserve in Africa and it is approximately larger than Switzerland but that is not the only thing that makes Selous unique. Selous harbors more than 350 bird species and is home of the rare animal species including the Greater Kudu, the rare Sable Antelope but most remarkably Selous harbors more than half of the surviving African hunting dogs in their natural habitat. The area of the Selous Game Reserve is estimated at 54,600 Sq kilometers about 21, 081 sq miles. Other animals that can spotted easily at Selous include the large herds of rowdy elephants, zebras, giraffes, buffaloes, leopards, cheetahs, lions, bush bucks, impalas, elands and lots of crocodiles in the water bodies.
The Selous Game Reserve also has its own Migration of wildlife but this one involves elephants and in the last census it was estimated that more than 64,000 elephants roam between the Selous in Tanzaniaand the Niassa Game Reserve in Mozambique. Hunting activities that are allowed in Selous and surrounding private game controlled areas however has been endangering the populations of the jumbos with poaching also playing its part.
The main artery that keeps Selous teaming with animals all year round is the magnificent Rufiji River, where unlike the safaris in Northern Safari Parks, here you can go on a Boat riding safari along the Rufiji river as you spot the animals including the huge hippos and can also engage in other activities like fishing safaris. The Kilombero Valley in particular to the west of the Selous Game Reserve allows fishing safaris where you can be lucky and record a catch of the rare Tiger fish and the cut fish if you are a fan of fishing tours and adventure travel. Being a Game Reserve unlike being a national park also means you are allowed to make a walking safari accompanied by an armed ranger. Apart from the Rufiji River Selous's water bodies include lakes like the Tagalala, Lake Makube, Lake Siwandu, Lake Nzerakera and Lake Manze.
Our Safaris to Selous Game Reserve include 3 days short safaris from Dar es Salaam as well as longer safaris to Southern Tanzania whereby we can include the Mikumi National Park, Ruaha National park, Udzungwa National Park and other parks like Katavi and the far flung Kitulo which is a flower lovers' haven.  Selous can also be combine with Northern Tanzania Safari packages and a morning flight flies from Arusha through Dar es Salaam to Selous daily. Selous can also be accessed from other scheduled flights from Dar es Salaam or Zanzibar Island as well as by train from Dar es Salaam.
Selous Game Reserve has some of the best luxury lodges and tented camps, and some nice mid range lodges/tented camps that are located at the Game Reserve's boundaries. Camping safaris are also possible in Selous and no matter your budget or preference our safari experts will make sure you enjoy all your time in the Selous Game Reserve and South Tanzania at large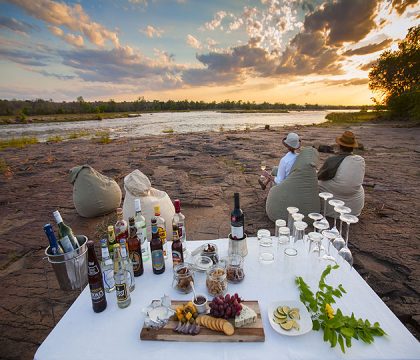 Tanzania Safari and Zanzibar honeymoon is now one of the best ways of spending your honeymoon and our experts are…