About 283 Kilometers west of Dar es Salaam and at least 4 hours drive lies Mikumi National Park which is basically part of the larger Selous Ecosystem a very rich area with lots of animals and birdlife. At least 200 species of birds have been recorded in the Mikumi National Park and the park boasts of the rare animal species ; the likes of the elands which are the largest antelopes in the world and the rare Greater Kudu roaming in the midst of the common zebras, buffaloes, giraffes and many other animals. This together with the numbers of the big cats like lions and leopards that can be spotted at the park makes Mikumi a real must see while on a safari in the Southern Tanzania Safari Circuit.
The park measures about 3230 sq Kilometers in area and it's the fourth largest park amongst Tanzania's National Parks. Recent infrastructure development in the park has made the park more conducive for game drives both during the rainy and the dry seasons. The Mkata flood plains within the park are a vast stretch of wonderful wilderness traversed by nice game tracking roads and you are assured of an awesome game drive the next time you visit Mikumi National Park.
The beauty of the park is made even better by the views of the surrounding Uluguru Mountains  and the Miombo woodlands some nice mountain hills bordering the park.
Mikumi National Park is accessible all year round and it can be visited from Dar es Salaam on a short 3 days safari or as part of a longer safari in the Tanzania's Southern Circuit including Selous Game Reserve, Udzungwa Mountains National Park, and Ruaha National Park. The Park can also be an extension to a safari package to the Northern Tanzania.
Mikumi has no permanent luxury lodge within the park boundaries currently but there are nice permanent luxury tented camps like Vuma Hills Tented Camp and The Stanley's Kopje Tented Camp. There is also a nice Mid range Camp called Mikumi Wildlife Camp formerly Kikoboga Lodge. This one has both Tented rooms and lodge rooms. Outside the Mikumi National Park you can get nice mid range lodges and budget lodges motels and guest houses if you wish to keep the cost low.
Next time you wish to Dar es Salaam please contact our experts for a short safari to Mikumi National Park or for a longer safari in Southern Tanzania Safari Circuit.
If visiting Zanzibar for beach vacation, you might be interested in visiting Mikumi. Our partner safari company offers the 3 days Mikumi Safari starting from Zanzibar at affordable prices.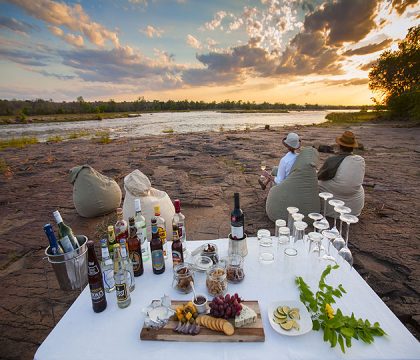 Tanzania Safari and Zanzibar honeymoon is now one of the best ways of spending your honeymoon and our experts are…