Lower Zambezi National park is situated on the northern river banks of Zambezi River. The park is picturesque and because of its beauty, there are immerse game viewing and bird watching opportunities. Lower Zambezi National park was a private game reserve for the Zambian president. The park was designated a park in 1983. The park is not fenced which gives the animals liberty to wander whenever they feel and in most cases, tourists see these wildlife species coming near their lodges. Lower Zambezi National Park is situated in the southeastern Zambia about 203km from Lusaka, the capital city of Zambia. By air, there are domestic flights which take about 40 to 60 minutes to reach the park. On the southern side of Zambezi River, there is Mana pools national park- a national park in Zimbabwe. Both Lower Zambezi national park and Mana pools national park form a rich game viewing ecosystem which lures thousands of tourists to Zambia and Zimbabwe respectively.
The park is stocked with wildlife adventures and some of the tourist attractions include:
Game viewing
With several species of wildlife which roam across this unfenced national park, game drives is one of the most popular activities within the park. Most of the wildlife species converge around the floodplains and some of the common species include   Elephants, lion, crocodiles, hippopotamus, cape wild dog, antelopes, leopards, cape buffaloes, hyenas and others.
Bird watching
Being strategically situated along the water body, the park attracts numerous species of birds. There are over 500 species of birds in lower Zambezi national park and some of these bird species include kingfishers, storks, fish eagles, cormorants, ospreys, African skimmers, spoonbills.
The best time to visit the park is during the dry season of July-October. From November – April, this is normally a wet season and some of the lodges are seasonal. They work during the dry season. Come and immerse yourself in this wildlife haven, visit lower Zambezi national park.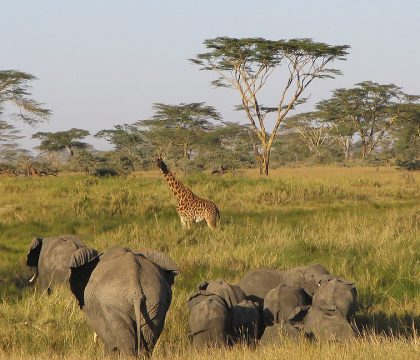 This 10 day Zambia and Tanzania safari is one of the best safaris to experience Zambia and Tanzania. Zambia is…